International orders are welcome! For more information on placing international orders, click here

Links to Install Examples:

Click Here to See Mini-Latch Air Cleaner Housing Installation Examples Click Here To See Mini Latch Skidplate Installation
Click Here To See Mini-Latch Hood Pin Application on AMC AMX
Mini Quik-Latch installation on Mustang Drag Car
License Plate Mount Utilizing Mini Quik-Latches
Mini Quik-Latch Hood Pin Application on Subaru WRX
Mini Quik-Latch Installation onto 1966 Ford Fairlane
Mini Quik-Latch Hood Pin Application on Acura NSX
Mini Quik-Latch Install on Factory Five Roadster Hood
Mini Quik-Latch Bonnet Pin Install on Custom Roadster
Mini Quik-Latch Installation on 1969 Mercury Cougar
Mini Quik-Latch Installation On Removable Trunk
Mini Quik-Latch Install on Super GT Fiat Race Car
Black Anodized Mini Quik-Latches on a Lexus IS300 Hood
Custom Center Console With Quik-Latch Minis
Mini Quik-Latches on hood of 1980 Mustang Cobra
Front Bumper Quick Release on Acura RSX
Ford Mustang Lift-Off Hood With QL-25-SB Black Anodized Mini Quik-Latches
SFWD Cars with Quik-Latches Installed
Click Here to See Mini-Latch Cabinet Applications
Scroll Down To See More Photos
The Quik-Latch multi-purpose quick release latch is probably one of the most versatile pieces of latch hardware on the market today.  In addition with the ability to function as automotive quick release fasteners, the Mini Latches have multiple applications for which they could be utilized, even outside the realm of automotive customization. That is the real advantage of the Quik-Latch mini - its versatility. 
Originally developed for use in automotive applications, it has since been put into service across a wide range of industries including: cabinetry & custom furniture, industrial, marine, recreational vehicles and more! Our customers have used Mini Quik-Latches on street rods, dedicated drag race cars, cabinets, custom enclosures, remote control model airplanes, and go carts, to name a few. There are probably customers out there who have found applications that we don't even know about yet. 
For many applications where a door or enclosure needs to open and close repeatedly, or a component needs to be able to attach and detach repeatedly, the Quik-Latch Mini can very likely be the solution for your latching application. In some instances, the latches may also be a suitable substitute for quarter turn type fasteners. Some quarter turn fasteners require the use of a tool or flat tip screwdriver to disengage them, whereas the mini Quik-Latches simply require the push of your finger to disengage the latch: no tools required.  This translates into less time spent getting getting access to critical areas and also reduces the possibility of scratched paint on automotive applications.  
The Quik-Latch mini latch is a push button latch roughly larger in diameter than a quarter. It is incredibly strong for its size as well, as it can withstand a pulling force of 150 pounds before experiencing failure. The latches have been approved by the NHRA for use in drag racing competition, which lends credibility for how strong and durable the latches are.  
The Quik-Latch mini latches are made of T-6 aluminum and stainless steel, which resists corrosion. They can also be painted or powder coated if a customer so desires. Last, but not least, the latches are manufactured to the highest of standards in the United States.


Dimensions
Upper Diameter of Latch Body Options:
1.5 inch (38.10mm)
1.25 inch (32mm)
1 inch (25.4mm)
.875 inch(22mm)
Length of latch body: 0.57 inches (15mm)
Length of mounting stud: 2.13 inches (54mm)

Pictured below is a size comparison between a U.S. Quarter and a QL-25-S 1.25" Upper Diameter Mini Latch housing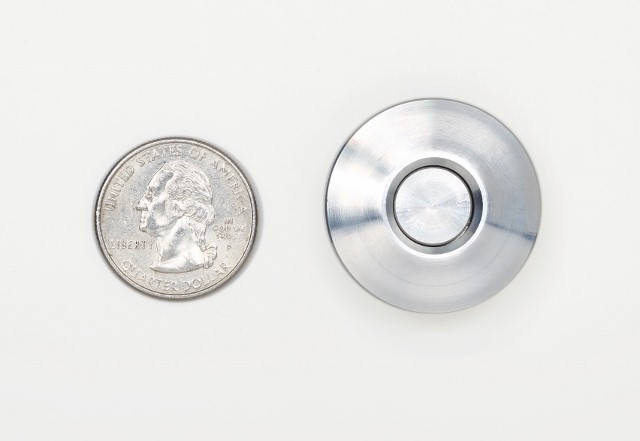 Pictured below are a pair of 1.25 inch upper diameter billet mini latches *Each sold separately
Pictured below is Mini Quik-Latch with 1.5 inch upper diameter