2012 AccuAir Subaru at SEMA!
Quik-Latch products is proud to have been a sponsor of the AccuAir Subaru which was featured at the SEMA show in 2012! AccuAir utilized the QL-25-S mini Quik-Latches for a front bumper quick release system on this Subaru. As with many modified turbochaged cars, the front bumper may need to come on and off repeatedly for dyno tuning purposes, for loading and unloading onto trailers, and for repairs or easy access to the intercooler and piping as needed. The Quik-Latch minis help make quick work of getting the front bumper on and off! As the folks from AccuAir have demostrated in these photos, the QL-25-S mini Quik-Latches can be painted so that the latches blend in discretely for a clean low profile installation. A huge thanks to AccuAir for helping represent our products at SEMA in 2012!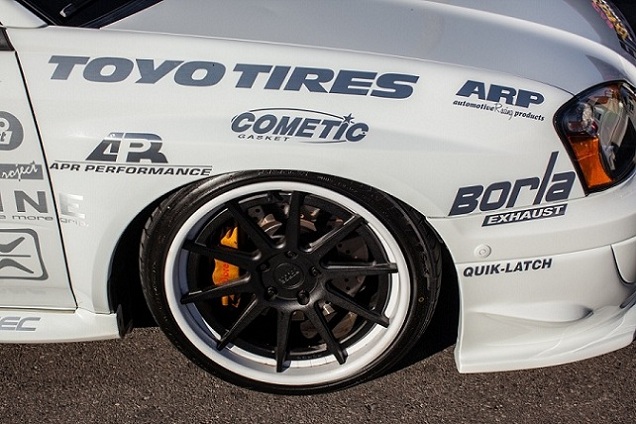 AccuAir did a great job at blending the latch to the archictecture of the front bumper, to make it look like it was all one in the same. If you don't look closely, you wouldn't even know that the latch is there, which is just what we and our customers want.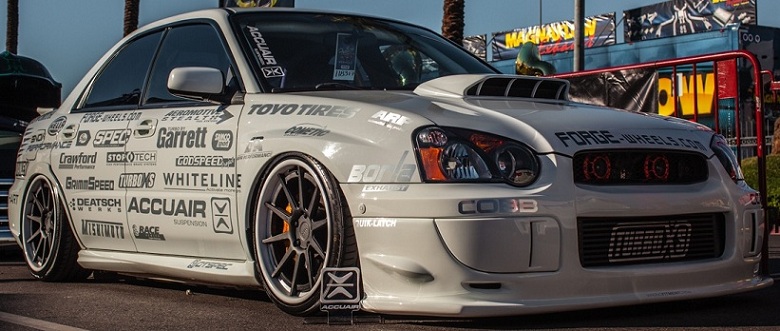 Complete front view of the Subaru, notice how from a distance, you barely even notice the latch on the bumper.